Rolling the shoulders and asking myself am I promoting now, or should I rehearse?
Hard to believe it's been 21 years since I first premiered O'Keeffe!. It was in January, 1992 at Shafer Street Theatre at Virginia Commonwealth University. My dad, mom, and sisters were there.
I will never have my family sit on the front row when I perform ever again.
The show is very intimate–I often address the audience, and being in a black box theatre I was aware of every sniffle, laugh, side remark that my sisters made. My mother behaved herself, and my dad, well, I think when he wasn't falling asleep he enjoyed himself. It was the last time he saw me perform as he passed away that year in September.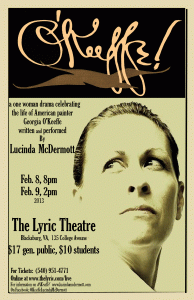 But I digress. The show later had it's professional premiere in NYC at Primary Stages. Pretty cool. And then I toured the show for several years until I had not one, but two babies. One was easy. I took my mom along as nanny. But two, well, that was just too hard.
But now the babies are grown. One is studying to be a costume designer and the other is working on his performing chops.
So here I go. Revisiting the script is a delight. Every time I come back to it, I find nuances I hadn't noticed before. The actor keeps discovering something the writer didn't even knew she wrote.
And so in a few weeks I'll put on the shoes, the bun, the starched collar and strict skirt, and become.
Re-entry is good.