It's always a special treat when threads of connection form between my various interests and projects.
I am currently under a commission by Washington & Lee University to write a musical play about their alum Larry Wynn '34, who had been a Tin Pan Alley songwriter and singer, who later became a sales phenom for ABC Radio, only to be guided back into songwriting when Cameron MacIntosh took a song he wrote lyrics for—Five Guys Named Moe (first recorded in 1941), a revue of  Louis Jordan music, and made it into one of the first juke-box musicals. The production team assumed Larry was dead—but when Larry saw an audition notice in the paper for the London production moving to Broadway—he called them.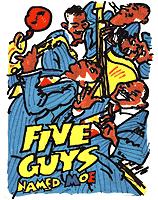 Anyway, the research has been fascinating and has lead me down many seemingly random paths, the majority of which have reaped gold.
One such rabbit hole was the discovery of a black songwriter named Andy Razaf, a contemporary of Larry's. How did that come about?
Larry, a white, Jewish, Brooklyn born fella sent to the south to college—evidently was comfortable flirting with margins. He was one of the minority of white musicians who was welcomed into Harlem, and worked with black musicians—a choice that later forced him out of the business because he wouldn't forsake his black peers when the pressure of segregation reared its ugly head. I've discovered that there was a black Tin Pan Alley, pretty much run by Clarence Williams (the IIIrd's grandfather of Mod Squad fame) and W. C. Handy. Their offices were over the Gaiety Theatre because the white proprietors of the Tin Pan Alley offices in the Brill Building discriminated against them (although it remains to be seen if there were alley deals on copyrights—black writers writing for whites–and I don't doubt there were) . In his memoirs, Larry credits Clarence with taking him to the Silver Dollar Grill up in Harlem, where he met the Palmer Brothers who became his back-up singers. So, in digging up about Clarence Williams, I found this interesting info.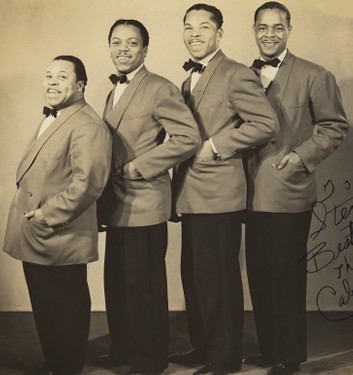 Then, I was searching for the writer(s) to the fabulous tune Larry had performed (heard it on an air check he had a recording of from the Avalon Hour) with the Palmer Brothers called Shoutin' In That Amen Corner.  I was hoping Larry had written the tune, but I found out that this dude named Andy Razaf, with Danny Smalls had. So I started down the rabbit hole after Andy Razaf and WHAT an interesting story his life is! But what was really great, was that research of Andy circled around to Black Tin Pan Alley, and the offices over the Gaiety. Andy Razaf would pick up his mail from there, my early internet research revealed. This was a quote repeated in almost every hit about Razaf, and credited to a book by Barry Singer, Black and Blue. In an effort to richen my understanding of this era, the relationship between black and white musicians during this time, the racial climate in Harlem and in midtown, I ordered the book through my favorite used and out of print resource, Abebooks.com. Internet research gave a cursory overview of Razaf's musical progeny; Lyrics for Honeysuckle Rose, Ain't Misbehavin', Black and Blue, (with Fats Waller's compositions), In the Mood (Music by Joseph Garland) , The Joint is Jumpin' (with J.C. Johnson, music by Waller) , That's What I Like About the South (words and music). How could this prolific, important lyric writer be so unknown?!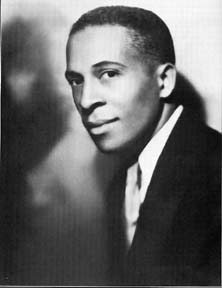 The book was waiting for me yesterday when I returned home from Floydfest. I started reading it and two points of intersection emerged; first was Libby Holman, a torch singer I had stumbled on back in the '80's and always thought would make a good subject for a show—she was a good pal of Cole Porter's, and ended up marrying Smith Reynolds, tobacco magnet and implicated in his mysterious death. . . ooooooooooooo. . . but a friend borrowed that book and I never got it back. Okay—but THEN I found out he had written My Handy Man, perfectly and incomparably recorded and interpreted by Ethel Waters, a song I've been working on to include in Ball & Chain's repertoire. Damn! I get a little tingly in the head and get gooseys on my arms when this happens. . . .
I love research. You never know where it's going to take you, and it seems to be my destiny to help shine a light on these beautiful past lives that impact our current lives with art, music, soul. And that's ok. I'm anticipating the interweaving of Andy and Larry, and how my magic wand of fiction and drama may make them dance.
I'm grateful for this journey I'm on, and where it's taking me. Stay tuned.