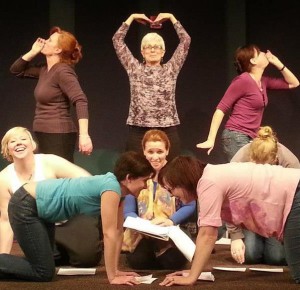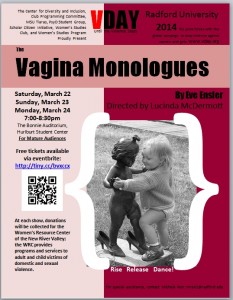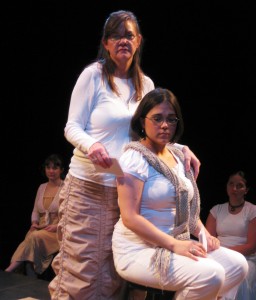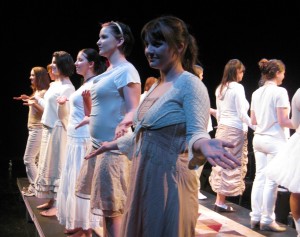 One would think that by the 6th time you've directed  a show, you are DONE with it. That's what I thought the 4th and 5th time I directed Eve Ensler's The Vagina Monologues for Radford University. That was not the case with this year's production. Maybe because this year's script contains 3 new pieces, which makes it a different challenge and more meaningful? Maybe it's this year's cast? Or maybe it's just taken me this long to fully understand the depth of how  The Vagina Monologues has potential to change one's course and impact lives in a positive way.
Maybe it's because a few months ago a former cast member (or "Vagina" as I am want to call my cast members), Dr. Liz Altieri told me the following story. She had been to a local elementary school to observe a student teacher and as she was leaving a school secretary, a women in her middle ages said, "Excuse me!"
Liz turned and said, "Yes?"
The woman whispered, "Were you in The Vagina Monologues at Radford University?"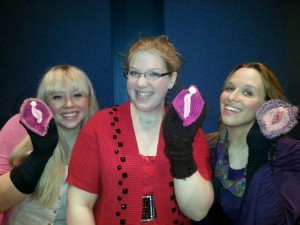 "Indeed I was", replied Liz.
The woman then proceeded to tell Liz the profound impact the show had on her, how she had brought friends to see it, how she went to see it more than once. Liz was moved as she was telling me this story—and truly, it was this event that opened my eyes ever more to see the power of this special piece. I've heard from other professors at RU, "Why do they keep doing the same thing?!" I'll tell you why:
The show is always different because there is always at least one new piece and new cast.
Because every 107 seconds, another American is sexually assaulted *.
Because 1 in 3 women will be sexually assaulted in her lifetime **.
Because perpetrators of sexual violence largely go unscathed or held responsible or  punished while their victims' lives are turned upside down often for a lifetime.
Because those pushed to the margins of society due to race, culture, sexual or gender orientation are maligned, unheard, disregarded, beaten, and made to feel like pariahs of society.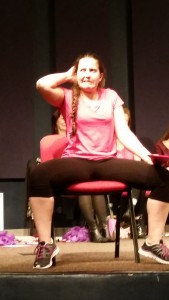 Because I want my daughter to never feel she has to apologize for saying "NO", or feel like a second class citizen.
Because I want my son to be a vagina friendly male, and to understand that "male privilege" is a cultural norm, and not the way it has to be or should be. And since he has been helping with the show since he was 12, I can safely assert he is a vagina friendly male, and an advocate for not only women's rights, for the rights of all who are pushed to the margins.
Because I want to open the eyes of teenage girls and boys to the fact that they can make a difference by being the difference.
I've seen audience members moved and cast members lives' changed. I'm so proud to have been a part of the legacy of V-Day. I am thankful to Dr. Michele Ren and Dr. Moira Baker for trusting me with this piece year after year, for supporting it, for going through the pain of dealing with the academic red tape of scheduling, promotion, advocacy of a good cause. You would think that wouldn't be an issue. I am thankful to my minister and church, Rev. David Rose and Grace Episcopal in Radford, VA for providing us with rehearsal space. Grateful to Brenna Bowyer, a wonderful past Vagina and current Stage Manager who has gone above and beyond the call of duty.  And finally, to all the current and past Vaginas from all the VDay at RU productions; you have graced and enhanced my life in so many ways. You are lovely, you are brave, you are fierce. I love you all so much.
~Lucinda
[photos from various productions of The Vagina Monologues  at Radford University]
* Rape, Abuse, Incest, National Network , www.rainn.org
**George Mason University, Worldwide Sexual Assault Statistics, 2005