4/18/15
Some thoughts for this beautiful Saturday morning. I am grateful for this community ratchere. I have gone back and forth on the love/hate with Facebook, but right now, I am so grateful for it. In this past week or so, I have been able to follow the happy upswing progress of a friend's wife's sudden and unexplained onset of toxic shock which landed her in the ER and actually on a death bed watch. She has rallied. My friend noted how important the prayers and support he received from FB friends were, and how they helped him keep his spirits up.
I posted the other day about my friend Connie Hanna who took her life. She is physically gone, but I have been reading our messages to each other, her face is here smiling in my friends list as if she is still here. This has been a hard one to cope with folks, because if you had asked me, "who in your life is the wisest, most enlightened, armed-with-tools-for-life-person you know?", I would have said Connie. And we were on the brink of a closer level in our friendship. The words and symbols from you all have helped me with a grief I actually feel guilty having–it seems too selfish. I don't understand, but I'm trying.
Processing. I have friends who tell me, "I never post, I'm a FB voyeur. I'm not comfortable sharing in that way." I get that, and respect it. I know you're there. There is something about being an artist, I think, that putting bits of our souls outward– is part of that art process. Because this is our raw material. And we depend on feedback. At least most of the artists I know do, no matter what their medium. And so FB has become another creative medium for some. I think definitely for me.
Connie Hanna. was so many things, but she was an artist. Here is some of her work:
https://www.facebook.com/conniehannajewels?rf=1462569354237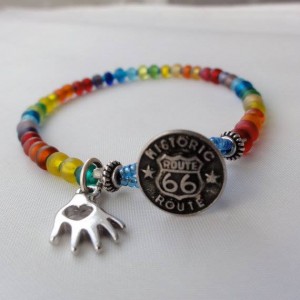 45
Connie processed her life through her posts on Facebook. It was those posts that had me reconnecting with her. I observed how, about 9 months ago—feeling her life needed a change, and after some deep meditation, she delved into a new chapter of her life by putting herself into the training program of Carmax to sell cars. She wrote on her LinkedIn account, "I love my new job! Never be afraid to try something you never dreamed you'd do!"  Within 8 months she became one of the top salespeople. Her posts about the people she met, the stories, the hugs, were inspiring to me. It was like a ministry for her. By the way, Connie was an ordained minister of the Universal Life Church and a certified yoga instructor.
As someone who had spent the past undisclosed years applying for "the job", having offers that didn't cut it salary or geographically wise, feeling unvalued in the job market, wondering what the next step was, empty nest, etc. . . I found her ability to fling herself into something new refreshing. More than that, it was her ability to defy other people's expectation of what she should be and do that inspired me to swallow my pride and take a job—any job in order to have a schedule, get out of the house, and contribute in some small way to the family coffers. I waited tables for the first time in 20 some years. I'm babysitting. I'm catering. If she can sell cars, ad bring her love, light, and laughter into that arena—I can do that too. And so we started chatting on Facebook.
I had not seen Connie since 2002, when I moved from Norfolk. As we were heading out of town, I picked up a pair of earrings I had commissioned her to make. Dragonflies with orange beads. Her son Jesse had been in Kindergarten with Willa. I had gone to her jewelry shows. We saw each other occasionally at church. I was always a little intimidated by her, as I am by most women who seem to "have it all together". Maybe I felt I didn't have anything to offer her in the friend department because I sensed she had it all. But our posts on Facebook drew us together as we recognized that our souls and spirits were in the same place. This really happened when she was fired from Carmax a little over a month ago. Her posts depicted loss and devastation, and extreme grief over suddenly feeling that her gifts were no longer wanted. I keenly related to this, and reached out. Evidently she had "not followed process". We started intense messaging. Not all the time. Not constant, but impactful.
On April 9, during one of our conversations in which she sent me a jpeg for a meditation class she was going to be leading and asked for my opinion—she asked, "Want to come to our place in Duck for a weekend?" I was overjoyed, and responded, "Yes!" It was to be a mini-retreat of sorts. I was so happy that we were going to have the opportunity to move our new relationship from a virtual level to an "In the same time and place" real one. I ended that conversation asking her a question about another  image she had sent me suggesting I try a particular meditation focus. It was never answered. On April 11, it's quite obvious that was the last time she posted, or liked anything I had posted, at least. The morning of April 16th, I messaged her, asking, "Hey Meditation Lady, I'm struggling with limbo waiting to hear about jobs. Any suggestions?" I discovered that night, through Facebook, that she had taken her life, in the Duck house, on April 14th.
She had plans. She had a loving husband. She had a 21 year old son that appeared to be her joy. She had a new business plan and focus; to be a meditation leader. She had pets. As evidenced by the mourning, tributes, and clear love and shock on her Facebook page, she had love and admiration and support in the hundreds if not thousands. One friend wrote on my page, "Norfolk is small and everyone is sad." All I can surmise is that Connie was a more sensitive artist than we knew, and that she suffered a deep, deep depression. Maybe a downward swing from bi-polar syndrome that swung so low she could not summon the physics to come back up.
She stopped talking to us all on Facebook on April 11. Was she listening? Was she reading? I wish she hadn't stopped talking. Because so many would have been there. A take away for me is when someone chatty grows silent, take action.
Also, artists need to reign in and redefine their perception of what success is. I am trying to do this for myself. Yesterday while walking my dog, I thought, "I am a success when I get out of bed. I'm a success when I put one foot in front of the other. When I prevail. When I show up. When I love and when I accept love. Because of my children, my marriage. My creative endeavors. I'm a success because I'm alive. Because I'm still here today. Because I can make myself smile even when I'm sad. Because I can be kind when I hurt. What I think anyone else thinks, is immaterial. It doesn't matter. I can do this because I can. I think if I'd asked, Connie would have told me this.  I believe that Connie was unable to tell herself these things due to some kind of chemical imbalance. I know she had the wisdom. For some reason, it was inaccessible to her.
I don't know how she died.  I hope she was in no pain. I hope, hope, hope and pray she was at peace. But how could that be? And that thought, no matter what method was used—feels violent. There is no peace or closure. Again, just writing that makes me feel guilt because I think of her husband, son, family, friends, that saw her on a daily, weekly basis, those closer to her than me. What right have I to feel this loss? It's selfish. I am disappointed I missed out on knowing her better, being closer to her. I have missed out on having her in my life to continue to wrestle with these life issues.
Her death shows me that the wrestling of these issues is important to share. So here I am. Because I need to feel that I'm not alone in this soup. Thank you for wrestling with me, or, if it is more comfortable to watch, I'm okay with that. I will wrestle for you. Thank you, Facebook family.