WHY ADVOCACY? Perhaps it was being the youngest of four, the daughter of an Episcopal minister who although he lost the use of his arms and hands through a neurological disease, never turned away from an opportunity to help someone in need. Add to that his being a sculptor, musician, theatre practitioner and art professor prior to his diagnosis, and one could surmise that this would have something to do with my being a passionate advocate for the arts, and for using the arts in advocacy for those less fortunate.
MAKING SOMETHING OUT OF NOTHING. Because I'm a freelancer, much of my advocacy has been done without the benefit of an organization backing or funding my projects. Even when I have had organizational backing, resources have been slim. This has not deterred me from attempting a big project, in fact, the challenge becomes more tasty.
INFLUENCES. I often mention my parents Emma Jane and Billy Mac McDermott when I'm asked about my life's interests. As we live and grow, the processing never stops. In some ways maybe it accelerates. I have noticed more and more the awareness of my parents' influence.
I grew up in a family where creating something from nothing, and being involved in the arts, as well as helping others, was the best that you could do. "If you can't do it right, don't do it at all", and "Do unto others as you would have them do unto you", were the mottos in my family.
My oldest sister Lola trained to be a ballerina, but at age 18 she suffered a slip disc that when operated on, disintegrated. She had to give up an appointment to the Winnipeg Ballet, and wear a back brace for the rest of her life. However, she is without bitterness, and used her training to pursue a Dance/Drama degree to integrate arts into the classroom. My other sister Julie was a music major who has taught voice and piano. My brother Bill, talented in visual arts and music, went on to be a building contractor, carpenter, and later master dive instructor and rescuer.
And my Mom. She was an Angel on Earth whose home became home to so many without family to love them. Complete strangers often commented on the power of her smile to lift their spirits. Vocationally, she was an English teacher. After WWII she taught GI's. They were so impressed with her civic sensibility, knowledge of current events, law, and passion for those less fortunate that they convinced her to run for the House of Representatives in South Carolina, where she was elected in 1953 running on a platform of nursing home reform. She was the first mother to be in that office . Later, she was a college administrator, regional director for the American Lung Association of Virginia, and in her 70's, appointed to North Carolina's Commission on Aging by the governor. All this among other pursuits. She wanted to be a lawyer, and actually started law school in her 50's, but my father's increasing independence due to his ailment forced her to have to abandon that pursuit. Creatively—she was a master seamstress who started sewing at age 9, making clothes for a neighbor. She made my wedding dress, and costume for my one woman play, "O'Keeffe!". And yet, there is more. Mom, "E.J.", was born with a talent to warble. It was not a whistle. Somehow, she had an embouchure that invited harmonics. She had perfect pitch. "Back in the day", before my Dad lost the use of his arms, he would accompany her on the viola. As you can see, I am a big fan.
So how could I not want to use art to make the world a better place, or to help artists  pursue their calling? This was the message I grew up with.
Fundraising
– Play Away the Hunger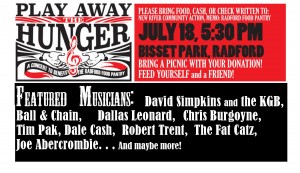 The Radford Food Pantry was depleted of resources in early July as a result of school being out, and economic hardship in the area. My husband's and my original idea was a concert in our backyard, but I realized that with some effort, this could be a community event. In less than 3 weeks and without any capital, I solicited donations of signage, venue, water, food, porto-john, and advertising from the city and local businesses. Over 20 musicians volunteered their time and talent, and dozens of volunteers helped with parking, collecting food, and advertising. Despite the rain, we had approximately 200 attendees for the concert, we raised over $9000, we filled two trucks with food. Our community came together in a meaningful way. https://www.facebook.com/PlayAwayTheHunger . Besides organizing the event, the acoustic duo I am a member of, Ball & Chain, also performed.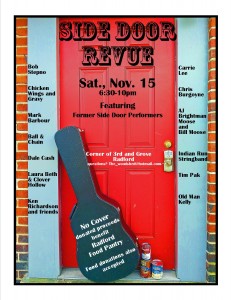 –Side Door Revue Ball & Chain participated and helped with logistics for the Winter of 2014 benefit concert for the Radford Food Pantry. We, along with 12 other acts performed. The event raised over $600, and collected a van load of groceries. I designed the flyer.
– Stop Hunger Now From 2007 until 2011, I
was Director of Canterbury House, the Episcopal Campus Ministry at Radford University. Besides programming, I managed the physical Canterbury House location, literally a house across from campus that provided sanctuary, fellowship, services, and meals to a minimum of 15 students, and rented to 3. We had a weekly coffee hour on campus. One of my first efforts was to Safe Zone Canterbury House, and provide training for others.  In early 2010, after hearing about the earthquake in Haiti and the extreme need, I organized a Stop Hunger Now Packaging Event. I coordinated volunteers from other university organizations to help fund raise, advertised through the university and via social media. We raised over $10,000, had approximately 530 volunteers to package over 40,000 meals. More photos of the event
Community Outreach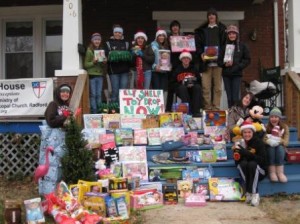 – T@G, Elf Shelf  In 2005, along with my husband Jon Piro and friend Sarah Himmel, we started a teen group at Grace Episcopal, Radford, called Teens @ Grace, or T@G. I initiated an annual Toy Drop (the Drive By Toy Drop) to collect toys for our community outreach program Elf Shelf, which provides families in need with a means to have Christmas for their children. This event not only helps others, but it gives our teens an opportunity to give back.
The group has also been involved with Project Linus Blanket, which provides blankets for children who are hospitalized or have been through some trauma. After 9/11, every child who lost a parent received a blanket from this organization.
Mission Trips to New Orleans T@G has been on several mission trips, and I had the honor of leading two to New Orleans following Hurricane Katrina, the first I was directly involved with organizing and raising funds for.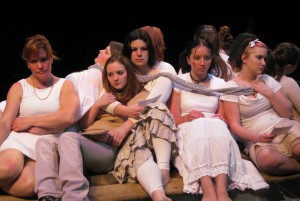 – The Vagina Monologues Since 2009, I have directed and co-produced The Vagina Monologues with the Women's Studies Group at Radford University. We have played to sold-out houses, and per the V-Day Organization's requirements donated 90% proceeds to a local organization. This has raised over $5000 for the Women's Resource Center of the New River Valley. 10% goes back to the V-Day Organization to help build hospitals and safe zones in countries where violence against women is even more rampant than in the USA. My casts have consisted of professional and first time actors. We assist with advocacy of women's issues during Women's History Month.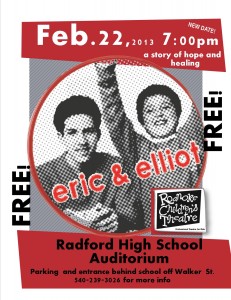 – Eric & Elliot   In late 2012, my son was cast in Roanoke Children's Theatre Production Eric & Elliot. He played a teen struggling with depression who ultimately commits suicide. The theatre provided mental health professionals as part of a talk back following the production. This play was offered free of charge through a grant to Roanoke City and County middle and high schoolers. I thought this play should be seen by our Radford high school students and community, however, the school system when asked, stated they could not afford the $1000 fee. I asked if they would proved the venue, which they did, and I set out raising the funds to cover presenting the play, and advertising it, which I did in a matter of weeks. The production was very successful despite having had its date moved twice because of snowy weather.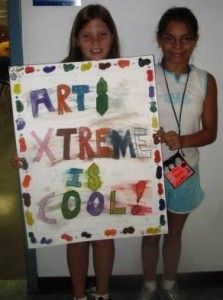 – ArtsXtreme  In summer of 2006 I designed, organized, and directed a multi-arts summer workshop for children grades 2 through 12 on the campus of Radford University. We were given space at the College of Visual and Performing Arts, thus children were able to take dance in a dance studio, learn acting on a stage, pottery in a pottery studio, etc. . . 58 children participated. I hired a faculty of professional teaching artists, and graduate assistants. No child was turned away for lack of funds as I had fundraised an Angel Scholarship Fund, soliciting generous donations from local businesses and private sources. There was a desire for ArtsXtreme to continue, but new administration at Radford University wanted to charge an amount for space use that would have made scholarships impossible.
Supporting Arts and Artists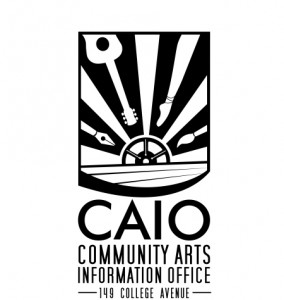 – Lyric Theater and the Community Arts Information Office In 2009 I was asked to facilitate a conversation between artists and arts organizations in the New River Valley of Virginia with the Lyric Theatre of Blacksburg, Virginia. The Lyric, a 501C3 desired to create an entity that would meaningfully support community arts with a one stop shop for information about events and arts in the area. I was honored to be asked to facilitate this discussion.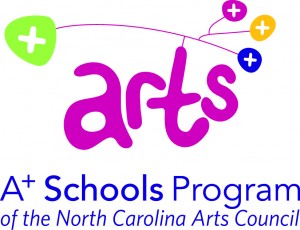 – A+ School Programs in 2011 I began apprenticing as an A+ School Program Fellow for the state of North Carolina. The following year I was made a full fellow. A+ Plus is the longest running, most successful arts based, whole school reform program. I bring my expertise as a theatre practitioner to help teachers of non-arts subjects integrate theatre arts into their curriculum in meaningful ways. True integration addresses the Multiple Intelligences, and ensures that every individual learner is reached. An example is a workshop I've developed paralleling Dramatic Play Structure with Scientific Method. Through hands-on experience, students and teachers realize that both subjects use similar approaches of inquiry by asking the question, what's the story? I've also created workshops with masks, and character development.