WHAT THE CRITICS SAY
"A gutsy role. . . there's so much to relish in this performance…"   – New York Post
 "A tour de force performance. . .Lucinda McDermott shines. . ."  –Richmond Times-Dispatch 
"Bermudians have succumbed to O'Keeffe madness. . .they packed the tiny Daylesford Theatre. . . .witty, often moving. . .it succeeds. . .A profound journey, we are glad that McDermott has taken us along for the ride."  –The Royal Bermuda Gazette
 "It's not often author and actress, as one being, fill up space so beautifully . . .McDermott is an exceedingly tuned-in actress and playwright. . .May the rational beware. Here's a sophisticated weeper—one on an entirely surprising level."     -The Virginia Pilot
 "O'Keeffe! is a journey of the spirit, a spirit town between love of a man and passion for a craft….O'Keeffe! convinces us of the painter's artistic needs with vivid descriptions of space and color. This is a tribute to the piece's beautiful writing. . ."  –The Miami Herald
 "You don't have to be an O'Keeffe scholar or art lover to love this play. You just need to be open to exploring a woman's struggle between family and freedom, dedication to spouse and art, and ultimately, commitment to self. . .Though she is alone on stage, McDermott gives a passionate performance that would exhaust an entire cast. . .deeply personal."   –The Roanoke Times
"…McDermott's show is a wonderful testament to a great woman who struggled in her life, with the same kinds of problems women today encounter, and conquered with grace."  –The Barnard Bulletin
WHAT THE PRESENTERS SAY
". . .I was impressed not only with her considerable charisma and talent as an actress, but also with the depth of the play. The play was rich with information, yet not at all pedantic. "O'Keeffe!" sold out both nights we presented it." –Shellie Williams, Curator of Education, Gibbes Museum of Art, Charleston, SC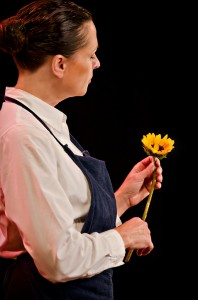 "Any producing company would do well to book this high caliber theatre piece." –Richard Cary, Artistic Director, Nantucket Actors Theatre
"Ms. McDermott, with her passionate and convincing portrayal of Georgia O'Keeffe, brought this artist to life before our eyes…not only a great actress but a dedicated professional. She was a pleasure to work with! Any organization interested in having Georgia O'Keeffe incarnate would do well to book Lucinda McDermott's "O'Keeffe!" – Francesca Morselli-Sinnot, The Masterworks Foundation of Bermuda
"I found the show brilliantly conceived and performed, and, of course, I was delighted to discover how widespread this opinion was among our audience of Washington and Lee faculty and alumni… You brought Georgia O'Keeffe to life and made the questions central to her career as an artist vivid and compelling. … We'd love to have you back." – Robert Fure, Ph.D, Director of Special Programs, Washington & Lee Univ.
"On behalf of Hartwick College I would like to take this opportunity to thank you for your enthralling and masterful performance portraying the life of the great American artist Georgia O'Keeffe. . .and your dramatic interpretation held the interest and rapt attention of our largely student audience throughout the evening. The informal question and answer session immediately following the performance was immensely informative . . . [an] exciting evening of high caliber professional theatre. It was an experience they will long remember and cherish." – Ron Sherhofer, Director of Special Programs, Hartwick College
"It is my pleasure to recommend Ms. McDermott, and her deeply moving performance of "O'Keeffe!" . . . to all persons truly dedicated to the Arts. . . .Lucinda's thoroughly detailed research has culminated in a wonderful production in which her passion explodes on stage. . . Lucinda conducted a drama student workshop where her method of character study brought a great deal of enthusiasm. . . Her performance is a work of love and reaches something in all of us." – Joan E. Bowman, Exec. Director of Rockbridge Concert-Theatre Series
WHAT THE AUDIENCES SAY
"I understood everything that happened on that stage and the desire to have my work say me but let it affect people in all different ways is something I have been chasing for a long time. I didn't cry. I didn't laugh (a little), I just sat there and listened and kept wanting to hear more. . . to put it succinctly: I saw every last color and they were all as magnificent as a New Mexico sky. Just one question. Is it O'Keeffe or McDermott? I think a lot of both." – Mickey Abbate, Brooklyn, NY
". . .I can't remember ever writing a fan letter before. . .I'm not a fanatic of Georgia O'Keeffe but now I feel compelled to read up on her life-as an artist, I can identify with so many of the questions your play presented." – Joni Ulman Lewis, artist, Fredericksburg, VA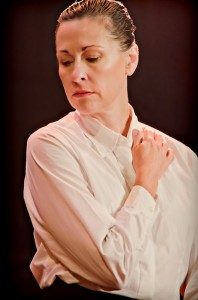 "These lives, these meaningful lives, these artists . . . Thank you, Lucinda, . . .for suspending you and letting me experience Georgia and for letting me experience the Georgia in you.. . I feel that I had just been to 291 and seen her work on the walls. . . .I thank you." – Jeannie Hill, professional dancer and Assoc. Prof of dance at Univ. of Wisconsin, Steven's Point
". . .Lucinda came to my school to study acting and since that time her growth both personal and professional has been enormous. During that time she created her own one woman show which she has ultimately produced by herself and presented around the country. . .In any capacity, either as actress. . . or collaborator, I recommend her highly." – Michael Moriarty, actor, musician
". . .The deep truths spun through your story were like nuggets I wanted to snatch and put in my pocket. The all too familiar struggle for one's own voice and expression in art made me feel as though I had been watched in my times of angst and self-searching.. .Your acting was brilliant, so much so that I often forgot you were not really O'Keeffe." – Susanne Fitzgerald, singer, Roanoke, VA
". . .It was logical for her to have found the one-woman production format but the choice of subject matter, Georgia O'Keeffe and her relationship with Stieglitz, is perhaps even more instructive. For in her work, Ms. McDermott is not only a creative force and a fine performer, but the issue of creativity itself, its sources and essences are of consuming interest to her. . ." Dr. Kenneth Campbell, director and former Chair, Theatre VCU 
" . . .Her first major play, "O'Keeffe!", is a witty, warm, and probing study of the artist and her craft." – Tom Ziegler, Playwright and former professor at Washington & Lee Univ.
". . . It was an excellent performance, both because of the content material and the skill of Ms. McDermott . . .She was able to capture O'Keeffe in a way I did not think was possible and the audience was moved by the performance. What was particularly exemplary was that she wrote the script." – David N. Saunders, Metro-Richmond Coalition Against Drugs
". . . She not only gave a flawless performance bu also wrote a taunt, clean wonderfully subtextual script on this American icon."  Gary Hopper, Director, retired Assistant Chair and Prof., VA Commonwealth Univ.
". . . The show illuminates the life of Georgia O'Keeffe through stunning theatrical imagery and a terrific text which inevitably also sheds light on the path of the artist and the pursuit of artistic vision. It is a moving and relevant piece." – Isabel Keating, Broadway actor ("Spider Man-Turn Off The Dark", "The Boy From Oz",  "Hairspray", "Enchanted April")